What is the Wind Power principle?
New Energy Structure include Wind Power and Solar Power.
Wind Power principle is converting wind energy into mechanical energy of power machinery, also known as the windmill. Broadly speaking,It is a sun as a heat source to heat the atmosphere by the engine working medium. Wind power is the use of natural energy. Relative to diesel power generation is much better. However, if the emergency to use it, or not as good as diesel generators. Wind power can not be considered as backup power, but long-term use. Wind power is the use of wind driven windmill blades rotate, then the rotational speed increase through the growth machine, prompting generators. According to the current versions of the windmill, which is about three meters per second wind speed (micro-The extent of the wind), it can generate electricity. Wind power is forming a boom in the world, because wind power is no fuel problem, it does not produce radiation or air pollution. Wind power is very popular in Finland, Denmark and other countries; China is also a strong proponent of the western region. High efficiency of small wind power systems, Wind Powers by the head, swivel, tail, leaf composition. Each part is very important for the function of each part: Leaves for receiving through the nose into the wind and kinetic energy; tail blade always facing the direction of the wind for maximum wind; twist to rotate to enable flexible head achieve tail reorientation function; the nose is a permanent magnet rotor, stator windings cutting magnetic field lines generated electricity. Wind Powers due to unstable wind, so its output is AC 25V 13 to change, to go through the rectifier charger, and then the storage battery charged and the power generated by Wind Powers into chemical energy. Then protection circuit inverter power, the battery inside the chemical energy into AC 220V, in order to ensure stable use.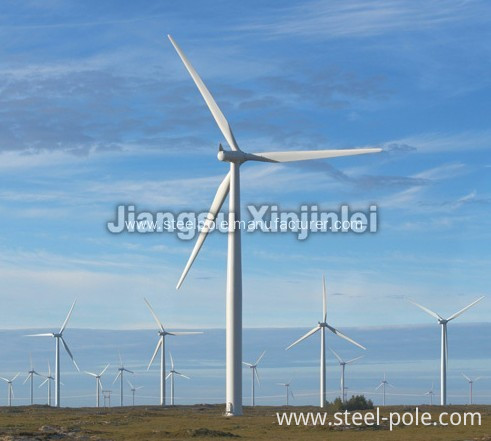 Wind energy has a certain kinetic energy by Wind Powers convert wind energy into mechanical energy, dragging generators. wind
Principle of power generation is the use of wind driven windmill blades rotate through the growth will increase the speed of rotation of prompting generators. According to the current windmill technology, about 3m / s of wind speed can start to generate electricity. Principle of wind power is the most simple Wind Power blades and the generator can be composed of two parts. Kinetic energy of air flow in the impeller, the kinetic energy is converted into mechanical energy to drive leaves the rotation if the shaft of the impeller shaft and the generator will be connected to electricity to drive the generator issue.